I write historical thrillers. They put you in the shoes of ordinary people caught up in critical moments of our history. I want our grandchildren to feel what it was like to have lived through some of the great moments of our time. I'm also a frequent speaker for the Foreign Policy Association's "Great Decisions" program. I try to matter to my family and close friends. Beyond that, like most people, I just vote, pay taxes, play the piano, and shovel the snow once in a while.
​Here's the most recent.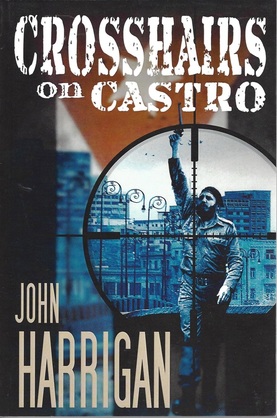 Crosshairs on Castro weaves an assassination plot around the 1962 Cuban Missile Crisis, the nuclear showdown that threatened to incinerate Western Civilization.

On the eve of that crisis, CIA rogue agents blackmail Army Lieutenant Charlie Parnell into a plot to assassinate Fidel Castro. They insert him into Havana as a reporter for a European newspaper, The Irish Times. The Cubans give him a watcher, the tantalizing Isabel Fernandez, and she quickly learns that he is not the Irish reporter he claims to be. Should she turn him in or persuade him to take her and her infant daughter along when his CIA handlers extract him from Cuba? While she debates that choice, the crisis erupts. Castro prepares for invasion, which throws Havana into chaos and cuts off Charlie's escape route. As he and Isabel scramble for their lives, tempers flare in the White House. Incident after incident threatens to spiral into an unstoppable nuclear exchange.


With Russian-U.S. nuclear tensions on the rise today, CROSSHAIRS ON CASTRO should be required reading for every public official.

Opening line:
If it hadn't been for his sixth sense, Major Oscar Escalante would have been home eating breakfast. Instead, he was prowling the lobby of Hotel Habana Libre, poking his head into restrooms, checking names in the registration book, and looking for anything suspicious.

"A first rate thriller."
Tim Mahoney, St. Paul author, The Ressurrection of John Dillinger.

"An Edge of Your Seat Read."
Kate Bitters, Minneapolis novelist, Ten Thousand Lines.

"Biting Our nails all the way."
Doug Williams, Naples, Florida novelist, Pennies from Hell.

"I couldn't stop reading."
Amazon reviewer Philip Peterson.









---