John Harrigan writes novels of urban life and real people.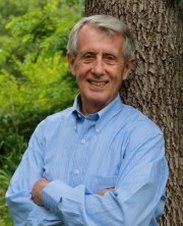 I grew up in a factory town very much like Jeeptown and lived in the house shown above. It was a nice house until it got destroyed during the Great Recession. The town became the site for my second novel, THE JEEPTOWN SOCK HOP. My father Jack was a janitor in the city's public schools, and my mother Mary was a homemaker who worked at the Willy's Jeep factory, during WWII, earning a certificate of proficiency as a vehicle technician.

After high school, I served two years in the Army which earned me the GI Bill, for which I've been grateful all my life. Without it, I don't know how I would have afforded college.

I attended Loyola University in Chicago, which gave me a taste for big city life. I then earned an MA in International Relations at the University of Chicago and afterwards had the good fortune to serve a tour of duty in the U. S. Embassy in Brazil where I became fluent in the language, fell in love with the culture, and to this day am involved with Brazilian friends. Little bits of that experience work their way smoothly into my first two novels.

After three years in Rio, I earned a Ph.D. at Georgetown University and then became a professor of Political Science at Hamline University in Minnesota, where I was blessed with many, many great students. I served two terms as chair of the Department, one term as assistant dean of Liberal arts, and I authored successful textbooks. But one of my passions had always been for fiction. When the opportunity arose, I left academica and took up the craft of writing fiction. I live happily with my wife Sandy in Falcon Heights, MN and Bonita Springs, FL. We have four adult children.
---